ISBN 978-1-940400-08-2 | Fiction |  $14.00 | pub date: February 2017
Review on Goodreads.


Who is Kafka-san? Is he a digitally remastered hologram of the famous writer? Or a golem engineered from a finger-bone illegally excavated from a grave in Prague? Or just your garden-variety flesh-and-blood clone? No one is quite sure, least of all K, a Nisei woman hired to be Kafka-san's interpreter and chauffeur through millennial Los Angeles. In resplendent, incandescent prose, Karen An-hwei Lee fashions this short, strange trip out of a mind meld between the Czech fabulist of bureaucracies and a sun-hammered late-empire sprawl
.
What writer doesn't pledge allegiance to Kafka? That's why it's astonishing when a writer comes along and actually makes Franz new, as does Karen An-hwei Lee, through her effervescent playfulness, richness of imagination, musicality, her endlessly inventive polyglot sensibility. Lee resides intimately in the space between languages, geographies, and temporalities as she pays homage to the master, as well as homage to the act of writing, of translation, of reading. The verbal and the sensual are fused under her supple pen, and you will marvel at her capacity to animate words, releasing them from habit and predictability into buoyancy.
—Mary Caponegro 
Karen An-hwei Lee has produced, in elegant prose and lyric epistle, a sensorium whose richness renders appetite absurd, a roux of epicurean sensations reduced, like words on a menu, to signs and vocables.  Hers is a world once removed, both familiar and exotic, like Kafka's own fabulist universe, in which America is Amerika and Kafka is K (or perhaps not). In Lee's elegant satiric thrust through the belly of a subtle, dangerous consumerism of language and personality, facsimiles pass for originals, time is no longer absolute, celebrity holograms have become more desirable than the individuals they represent, and Kafka is "Kafkaesque" – that is, a commodity.  I heed Lee's voice for the alarm it sounds in advance of a catastrophe as real and troubling as the San Andreas Fault and hail it for the beauty and, sometimes, comedy of its cool engagement with a "dioxide-tainted universe of nanoparticles in a roaring aquarium of steel-tentacled, inglorious ambition."  Lee has written a Waste Land for our time, whose symbolic epicenter is Los Angeles; her novella is, at once, a present dystopia and an uncanny invocation of Kafka, serving time in a penal colony where consumption and its proliferating glossaries have gone mad.
—Norman Lock OUR PREVIOUS TITLES:


ISBN 978-1-940400-07-5 | Fiction | 248 pages | $14 | Pub date: 2/24/2015
Review on Goodreads.
An elderly shut-in delivers a series of pet-sitting instructions to a young couple who've come to watch over his many, many cats. A story (or series of stories) about the ways that methodical, abstract systems interface with messy, personal obsessions,
Fancy
is a kissing cousin to the work of both the late Henry James and the early Thomas Bernhard: an object lesson in how our need to make sense of the world winds up devouring it whole.
Each paragraph of the novel begins with "Rumrill said" or "he added," and this repetition has a hypnotic effect, nudging the reader deeper into the underground caverns of the story … Davies slowly peels away layers of contradiction to reveal the abstract mental gymnastics Rumrill uses to function in the world… Davies has written a challenging but exceptional aria of a novel. This weird portrait of an unreliable and eloquent narrator could become a cult classic. —Starred review, Publishers Weekly
An ingenious and witty polyphonic invention. —Times Literary Supplement
Whether it dissolves a genre or invents a new one, Fancy will be the most weirdly riveting and beautifully composed book you read this year. In an unlikely literary sleight-of-hand, Jeremy M. Davies transforms an agoraphobe's catsitting instructions into a virtuoso meditation on being, perception, and solitude. He has written an utterly original novel with the fever of a Bernhard monologue and the command of a Schoenberg score. —Eric Lundgren
 Jeremy M. Davies's protagonist, Rumrill, takes his garrulous place among fiction's grandest denizens of the interior: Bartleby, Gregor Samsa, and Dostoevsky's Underground Man. Fancy is by turns frightening, delightful, but always quite strange. —Curtis White
Rumrill, ostensibly interviewing Mr. & Mrs. Pickles for the job of housekeepers, draws us irresistibly, if with digressions, into an account of his caring for Mr. Brocklebank and his thirty cats. His manic, hypnotic voice captivates us with its rhythmic swing between "Rumrill said" and "He added" — complicated by quotes from Brocklebank's exhaustive philosophical system of "cat fancying." But are there thirty cats? Any? Is there a Mr. Brocklebank? A Mr. & Mrs. Pickles? One Rumrill? Three? Nothing is certain, but everything hilarious. —Rosmarie Waldrop
Jeremy M. Davies is an incomparable stylist… the machinery of reported speech accrues its inexorable narrative momentum, and a house full of cats becomes a minefield of ethical chaos. Fancy is a true tour de force, a symphonic mise en abyme of such reticulate splendor that a reader can only be awed by its richness, precision, obsession, and gorgeous perversity. —Mary Caponegro ISBN 978-1-940400-06-8 | Fiction | 144 pages | $14 | Pub date: 2/24/2015
The debut short story collection from Evelyn Hampton.
[A] beautifully constructed collection of stories—slim, spare, and mysterious… a subtly assured voice … The overall feeling is one of microscopy—as if Hampton has us looking so close, has us rooted so deeply into the grit of her characters' experiences, that the edges and the context get lost … The stories feel real, feel like they get at some essential, mundane ill-ease, even if we could not say precisely how their odd, looping logic reflects our experience, except in so far as we all live within the closed loops of our bodies and minds. —Heavy Feather Review
In startling, often breathtaking ways, Evelyn Hampton examines self and object and word and world in these pages, moving with wonder and hopefulness through all the bewilderment and beauty that is the human predicament. A moving and impressive debut. —Carole Maso
Evelyn Hampton's Discomfort is a stunning first collection of stories that take place in the gap that exists between the world and our perception of the world. And, when it has to make a choice, it comes down not on the side of reality but on that of embodied, eccentric perception. Hampton cannily reveals the uncanniness of all we think we know, and shows that that uncanniness belongs as much to our own minds as to things themselves. —Brian Evenson
Hampton's stunned sentences will remind you, because you have forgotten, how piercingly disregulating life is. Discomfort is an amazing experience. —Stacey Levine Odes & Fragments by Alan Davies
ISBN 978-0-9637536-8-7 | Poetry | 236 pages | $18
$13 w/ FREE SHIPPING
Available here and through Small Press Distribution,
your local independent bookstore and Amazon.
Review on Goodreads.
ODES & fragments by Alan Davies presents a substantial collection of recent poetry, including odes and fragments as well as modes above and beyond. Ranging in length from a few words to twenty-plus pages, these poems vary widely, exploring love and fellowship, war and adversity, beginnings and endings (and the ongoing), instances of thought, feelings that flutter then fail, moments of apprehension (both senses), and our confrontation with the irretrievable.
Davies hasn't been publishing a lot in recent years & to see this much work at once, this much first-rate work, is completely bracing. He hasn't lost a step & is every bit as uncompromising as ever… He continues to be the Diogenes of the New York langpo scene. —Ron Silliman

[Davies] has suggested to me ways of thinking about connective possibility, ways through which 'no one is absent anymore'…. how writing and reading matters, not just for its comforts or its eloquent aesthetics, but for the way it can take us through comfort and aesthetics into relations with others, for the way it can model thinking. — Juliana Spahr
The President in Her Towers by Tom Whalen
ISBN 978-0-9637536-7-0 | Fiction | 175 pages | $14
Available through Small Press Distribution,
your local independent bookstore and Amazon.
Review on Goodreads.
Through the corridors of the university's Humanities and Sciences Towers, rumors are swirling about the President: her bizarre decrees, her midnight meetings, her strange projects (the Head-in-Progress, the Activated Eye, the Gestation Chamber). The President's dedicated personal assistant, Thomas (a.k.a. Herr Abjectus), is charged with investigating and reporting on these and other matters, but it won't be easy—especially since the President has disappeared. And now there is a new rumor: that she has been marked for assassination.
A "deft, daft satire of bureaucracy, paranoia, professional envy, megalomania, the madness of specialization and the absence of transparency as they infect the university and, in general, our institutionalized existence."
—Norman Lock The Dreaming Girl by Roberta Allen
ISBN 978-0-9637536-6-3 | Fiction | 142 pages | $14
Available through Small Press Distribution,
and your local independent bookstore,
Amazon, or Barnes & Noble.
Review on Goodreads.
A young American traveler in Belize has a brief affair with a man known only as the German. In The Dreaming Girl, Roberta Allen's exquisite and incantatory language slyly manifests how reality may be bent and blurred by desires hidden even to ourselves.
"A warm, erotic book, not merely in its story and imagery, but in the very way its prose is structured…Reading this book has the effortless tug of slow water in a jungle river, the buoyant languor of a dream."
—John Olson, Rain Taxi Review of Books

"A choral work where there are endless variations on the same theme, each beautifully developed… The girl's jungle is not some Henri Rousseau sketch conjured second-hand after an afternoon spent at the Jardin de Plants. Rather it has the precision of field notes written by a solipsistic ecologist."
—Mary Mackey, The American Book Review
Changing the Subject by Stephen-Paul Martin
ISBN 978-0-9637536-5-6 | Fiction | 204 pages | $14
Also available through Small Press Distribution,
your local independent bookstore, and Amazon.
Review on Goodreads.
In Changing the Subject Stephen-Paul Martin once again deforms traditional notions of the story, giving us beautifully digressive revenge-fantasies, hysterical moral tales, and his singular, uncanny brand of the shaggy dog yarn.
"How marvelous to see the story so thoroughly reinvented and reinvigorated! Changing the Subject is so far by far my favorite new book of 2010." —The Review of Contemporary Fiction

"Changing the Subject doesn't live up to its title, it consumes it. Though the stories make high use of syntactical or symbolic repetitions, they are also powerfully digressive, hallucinatory." —Bomb Magazine's Editor's Choice



ISBN 978-0-9637536-4-9 | Poetry & Fiction | 336 pages | $17
Edited by Keith Newton and Eugene Lim
The Harp & Altar Anthology
Also available through Small Press Distribution and Amazon.com.
Review on Goodreads.
Since 2006, the Brooklyn-based online literary magazine Harp & Altar has emerged as an exciting new source for innovative and risk-taking literature. In its short tenure, Harp & Altar has established a home for serious readers attracted to its groundbreaking writing and original design. The energy and talent on display have been widely recognized—and now the best of this online magazine has been collected in The Harp & Altar Anthology, which features a selection from the fantastic poetry and fiction published in the first three years.
With writing by : Roberta Allen • Stephanie Anderson • Jason Bacasa • Andrea Baker • Jessica Baran • Jessica Baron • Shane Book • Donald Breckenridge • Michael Carlson • Joshua Cohen • Julia Cohen • Adam Clay • Lynn Crawford • Oisín Curran • Claire Donato • Farrah Field • Corey Frost • David B. Goldstein • Andrew Grace • Kate Greenstreet • Sarah Gridley • Emily Gropp • Evelyn Hampton • Jennifer Hayashida • Stefania Heim • Lily Hoang • Joanna Howard • Dan Hoy • Thomas Kane • Steve Katz • Karla Kelsey • Joanna Klink • Jennifer Kronovet • Norman Lock • Jill Magi • Justin Marks • Peter Markus • Eugene Marten • Stephen-Paul Martin • Zachary Mason • Miranda Mellis • Sara Michas-Martin • Patrick Morrissey • Ryan Murphy • Eileen Myles • Bryson Newhart • Linnea Ogden • Cameron Paterson • Johannah Rodgers • Joanna Ruocco • Elizabeth Sanger • Rob Schlegel • Zachary Schomburg • Kate Schreyer • Andrei Sen-Senkov • Brandon Shimoda • Peter Jay Shippy • Joanna Sondheim • Mathias Svalina • Bronwen Tate • G.C. Waldrep • Derek White • Jared White • Joshua Marie Wilkinson • Paul Winner • David Wirthlin • Michael Zeiss • Leni Zumas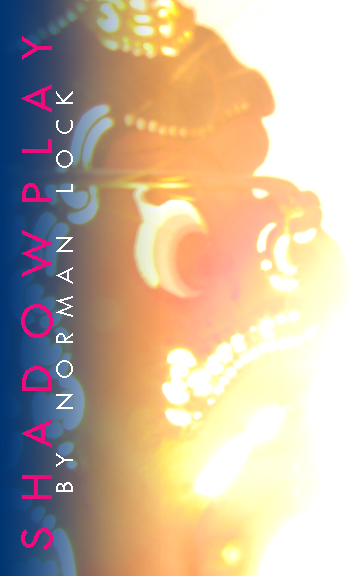 Shadowplay by Norman Lock
Winner of the 2010 Dactyl Foundation Literary Fiction Award!
ISBN 0-9637536-3-0 | Fiction
Order Shadowplay ($13 + shipping):

Also available through Small Press Distribution,
and soon through your local independent bookstore,
Powell's, Amazon, or Barnes & Noble.
Review on Goodreads.
In Java, a master of the shadow-puppet theater seeks to possess—by his art—a woman, who perishes as though by the contagion of his unnatural desire. Shadowplay is a meditation on story-telling as an act of seizure, a parable of obsession and of the danger of confounding the real with its representations.
"Stories compensate for lives unlived. They are what Norman Lock, or his avatar Guntur, calls shadows, negative reflections on a backlit screen, comprising, through artistry and brief illumination, ghosts. Lock's teller is imprisoned by darkness, captivated by warriors and princesses no longer, if ever, living. Death becomes a distance from which the voices of these unliving return. It is a journey as delicious as it is threatening." —R.M. Berry

"Lock …evokes a deeply sensual world in which the smell of cinnamon all but sings in the breeze and the sea beckons like a lover… Shadowplay is informed by so many stories… that I initially feared I'd need to haul out my old Bullfinch's Mythology and a dozen other reference works. But I didn't. The novel stands on its own and does its tricky work unaided, like the afterlife of a dream." —The Brooklyn Rail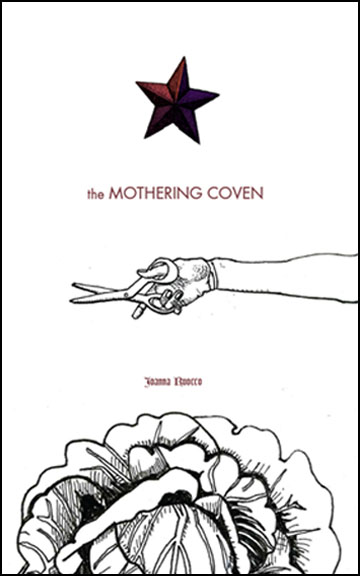 The Mothering Coven by Joanna Ruocco
ISBN 0-9637536-2-2 | Fiction
"BEST OF 2009"
Order The Mothering Coven ($14 + shipping):

Also available through Small Press Distribution and Amazon.
Review on Goodreads.
Mapping a utopia on the brink, The Mothering Coven's rare mix of pyrotechnic wordplay and open-armed charisma is a defiantly original act of storytelling. Bertrand has disappeared from the house she shared with seven women—artists, scientists, and of course, witches. Even as the text occults itself in rarefied symbols, Joanna Ruocco's virtuosic style pulls the reader inside an ever-widening, glowing expanse.
"Deliriously imagined, The Mothering Coven is a work of wonder. Joanna Ruocco arrives: marvelous, and fully sprung!" —Carole Maso

"Ruocco's Coven is an engagingly whimsical tale, graceful and inventive, with its own distinctive lexicon, reminiscent of the works of such writers as Ronald Firbank or Coleman Dowell. It toys with language and knowledge somewhat like an emerald-eyed black cat in the book toys with a large bird. Batting it about playfully. Coaxing something new out of it." —Robert Coover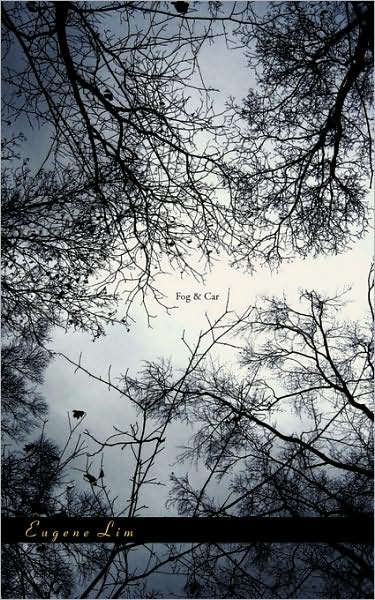 Fog & Car by Eugene Lim
ISBN 0-9637563-0-6 | Fiction | 263 pages | $10
Buy through Small Press Distribution,
your local independent bookstore,
Powell's, Amazon, or Barnes & Noble.
Review on Goodreads.
"In Fog & Car, Eugene Lim renders the uncanny convergences of the lives of partners and strangers in a language entirely new. This is a deep, engulfing novel of breathtaking, even spooking precision—an altogether heady and heart-shaking debut. —Gary Lutz

"[A] disturbing mystery pitched somewhere between Mulholland Drive and City of Glass… [I]t never loses its appealing initial tone of aching loneliness, even as its characters and its goings-on grow increasingly supernatural. —Review of Contemporary Fiction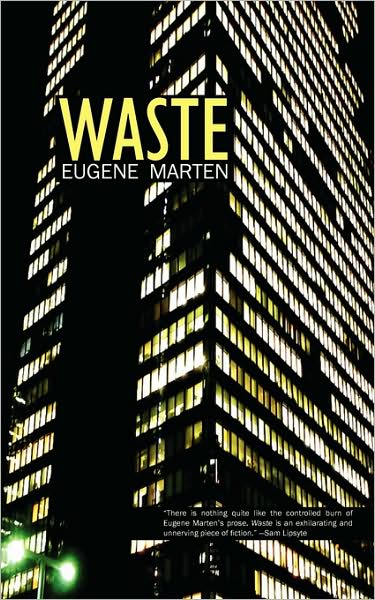 Waste by Eugene Marten
ISBN 978-0-9637563-1-8 | Fiction | 116 pages | $10
Order Waste ($10 + shipping)
Or buy through Small Press Distribution,
your local independent bookstore,
Powell's, Amazon or Barnes & Noble.
Review on Goodreads.
"There is nothing quite like the controlled burn of Eugene Marten's prose. Waste is an exhilarating and unnerving piece of fiction." –Sam Lipsyte

"I will read anything [of] Eugene Marten's for the rest of my life… His sentences are sentences in the realest application of the word, in that each one kind of condemns itself on the paper or in you in your own mind." –Blake Butler